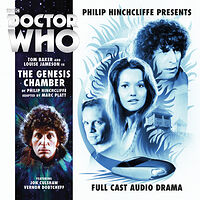 Note: Sequel to Philip Hinchcliffe Presents, this is a Fourth Doctor / Leela audio drama intended to "evoke the spirit and feel of the period when Hinchcliffe was in charge of production".
Cover blurb:
Philip Hinchcliffe, acclaimed producer of Doctor Who (1975-77) returns to tell new stories for the Fourth Doctor and Leela.
The TARDIS arrives on a human colony world, where the city dwellers rely on advanced technology to create their children, while shunning the primitives who live outside the city. But neither group realises that a third force threatens their very existence...