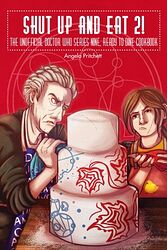 Note: Sequel to Shut Up and Eat!
Cover blurb:
Take a culinary adventure in the TARDIS with Shut Up and Eat Vol. 2! The Unofficial Doctor Who Series Nine, Ready to Dine Cookbook. Explore each new episode from series nine with a full meal and relive the action and adventure right along with the Doctor, Clara, Osgood and others! Enjoy dishes like Missy's Java Jump, Mini Zygon Gummies, The Osgood Box Mac n Cheese and many many more!
Angela Pritchett is an American author of short fiction and cookbooks. She has taught band and orchestra for ten years in North Carolina, and is an avid cook. When not working she enjoys creating new recipes, playing with her cats and pug, and sewing.