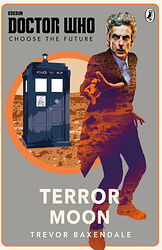 Description: Second of a pair of Twelfth Doctor "Choose-your-own-adventure" books, following Night of the Kraken.
Cover blurb:
When one choice leads to triumph or failure, life or death, salvation or destruction... what will you choose?
On an abandoned moon base, the Twelfth Doctor discovers a flesh-eating horror that leaves only the bones of its victims behind. Can the Doctor stop this monstrous being before it's too late?
With Choose the Future, you can influence the adventure by deciding what the Doctor should do next. His life and the fate of the universe he protects are in your hands...