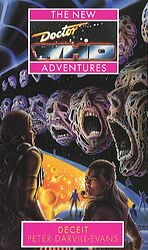 By:
Peter Darvill-Evans
Rating:
6.1 (38 votes) Vote here
Review:
Relevance of Title Unclear Read more (1 in total)
Released:
April 1993

Publisher:
Virgin
ISBN:
0-426-20387-9
Format:
paperback
Owned:
Buy:
Cover blurb:
The middle of the twenty-fifth century. The Dalek war is drawing to an untidy close. Earth's Office of External Operation is trying to extend its influence over the corporations that have controlled human-occupied space since man first ventured to the stars.
Agent Isabelle Defries is leading one expedition. Among her barely-controllable squad is an explosives expert who calls herself Ace. Their destination: Arcadia.
A non-technological paradise? A living laboratory for a centuries-long experiment? Fuel for a super-being? Even when Ace and Benny discover the truth, the Doctor refuses to listen to them.
Nothing is what it seems to be.
Peter Darvill-Evans has sold Dungeons & Dragons for Games Workshop, written Fighting Fantasy Gamebooks for Puffin Books, and been a director of a magazine distribution company. Now the editor in charge of Virgin Publishing's fiction department, he has decided to subject himself to the strictures which he has imposed on other New Adventures authors. Deceit is the result. He is the co-author of Time Lord, the Doctor Who role-playing game.