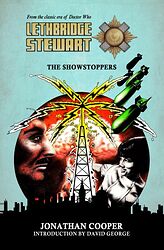 Edition:
UK (1st paperback)
Released:
June 2016

Publisher:
Candy Jar Books
ISBN:
978-0-9935192-1-5
Format:
paperback
Owned:
Buy:
Cover blurb:
"The Brigadier is such an integral part of Doctor Who mythos, it seems right and proper he now has his own series."
Doctor Who Magazine
There's a new TV show about to hit the airwaves, but Colonel Lethbridge-Stewart won't be tuning in. With the future of the Fifth Operational Corps in doubt he's got enough to worry about, but a plea from an old friend soon finds Lethbridge-Stewart and Anne Travers embroiled in a plot far more fantastical than anything on the small screen.
Can charismatic star Aubrey Mondegreene really be in two places at the same time? And is luckless journalist Harold Chorley really so desperate that he'll buy into a story about Nazi conspiracies from a tramp wearing a tin foil hat?
There's something very rotten at the heart of weekend television, and it isn't all due to shoddy scripts and bad special effects.
A series of novels from the classic era of Doctor Who, starring Colonel Lethbridge-Stewart and Anne Travers based on the characters and concepts created by Mervyn Haisman and Henry Lincoln.