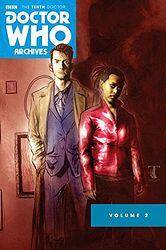 Description: Doctor Who graphic novel omnibus, collecting the previously-published Through Time and Space and Fugitive.
Cover blurb:
"DOCTOR, YOU HAVE INTERFERED WITH A STATIC POINT IN SPACE AND TIME. YOU HAVE ACTIVELY ALTERED EARTH'S FUTURE... YOU ARE UNDER ARREST."

ARCHIVE ADVENTURES WITH THE TENTH DOCTOR!
Menaced by an emotion-eating empathivore and a malignant macro-virus, pursued by agents of the Victorian Torchwood Institute and a planet's worth of rampant robots, the Tenth Doctor certainly needs his wits about him in these stories — and that's before he's put on trial for time-meddling by the Shadow Proclamation!
Boasting an abundance of time-traveling tales, this second omnibus of the Tenth Doctor's adventures is essential reading for any fan!
COLLECTS DOCTOR WHO: THE WHISPERING GALLERY (2009), DOCTOR WHO: THE TIME MACHINATION (2009), DOCTOR WHO: AUTOPIA (2009), DOCTOR WHO: COLD-BLOODED WAR (2009), DOCTOR WHO: ROOM WITH A DÉJÀ VIEW (2009), DOCTOR WHO: BLACK DEATH WHITE LIFE (2009) AND DOCTOR WHO (2009) #1-6.