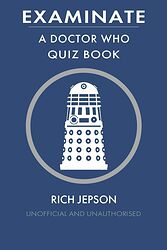 Edition:
UK (2nd paperback)
Released:
October 2017 (Exact date unconfirmed)

Publisher:
Self-published
ISBN:
978-1-5497-0245-7
Format:
paperback
Owned:
Buy:
Note: Print-on-demand. Sometime in early 2020 it was updated to include questions relating to the first two seasons of the 13th Doctor era (series 11-12).
Cover blurb:
Buenos Tardis!
Do you know your Silents [sic] from your Silurians?
Your Autons from your Oods?
Your Ponds from your Rivers?
Inside this book you will find over 400 questions covering seasons 1-12 of the 2005 reboot. Questions are separated into 25 quizzes. There are 15 general knowledge rounds and 10 rounds based on specific subjects.
General knowledge questions increase in difficulty as you progress through the book. There's also a round of tiebreakers to settle any disputes.
Do you have what it takes to win? There's a lot to get through, after all...
It's bigger on the inside!