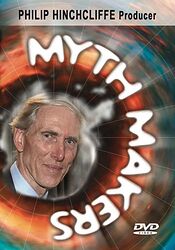 Note: Region 0 DVD-R disc.
Cover blurb:
"Looking back I can see that there's a kind of richness to our best stories in terms of themes, elements and atmosphere."
After studying English at Cambridge, PHILIP HINCHCLIFFE joined ITV and worked for several years as a script editor. He joined the BBC in 1974 and produced three seasons of DOCTOR WHO featuring the debut of TOM BAKER in the title role.
Over the years, he has been a contributor on numerous DVD releases of his programmes, in particular DOCTOR WHO, for which he has recently written some new stories for BIG FINISH.
In this MYTH MAKERS, shot on location at the Doctor Who Appreciation Society's (DWAS) own MYTH MAKERS event in 2014, PHILIP talks to NICHOLAS BRIGGS about his successful career in television and film, plus the thinking and planning behind his three years in charge of DOCTOR WHO ... working with ROBERT HOLMES as Script Editor.
SPECIAL FEATURES Biography and Behind-the-Scenes