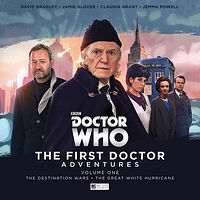 Cover blurb:
The Destination Wars by Matt Fitton
The TARDIS arrives in a gleaming utopia in the Space Year 2003. Has the Doctor truly brought Ian and Barbara home, to glimpse their future?
The world owes much to its legendary Inventor, and Susan finds herself face to face with the great benefactor. But soon, the time travellers are in a world at war and the Doctor must confront his past.
The Great White Hurricane by Guy Adams
Rival gangs turn streets into battlegrounds, and the Doctor and his friends are caught in the crossfire. They find themselves separated, and lost in the cold.
As the hunt for a fugitive turns ever more desperate, a blizzard descends. The snow keeps falling. And soon it will prove as deadly as any weapon...