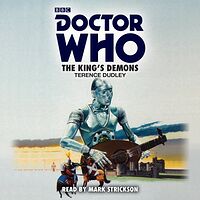 Note: Audio reading of Terence Dudley's 1986 novelisation.
Cover blurb:
Mark Strickson reads this exciting novelisation of a Fifth Doctor TV adventure
"This range of classic Target audiobooks continues to go from strength to strength..." Doctor Who Magazine
It is 4 March 1215, and the TARDIS materialises in England during a jousting match held in the presence of King John. But it soon becomes apparent to the Doctor that something is very seriously wrong.
Why does John express no fear or surprise at the time travellers' sudden appearance, and indeed welcome them as the King's Demons? And what is the true identity of Sir Gilles, the King's Champion?
Very soon the Doctor finds himself involved in a fiendish plan to alter the course of world history, by one of his oldest and deadliest enemies.
Mark Strickson, who played the Doctor's companion Turlough in the original BBC TV series, reads Terence Dudley's complete and unabridged novelisation, first published by Target Books in 1986.