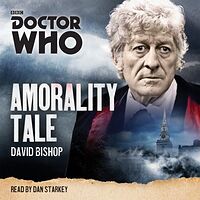 Note: Audio reading of the 2001 3rd Doctor novel.
Cover blurb:
Dan Starkey reads this original novel featuring the Third Doctor, as played on TV by Jon Pertwee, and his companion Sarah Jane Smith
When gangster Tommy Ramsey is released from prison, he is determined to retake control of his 1950s East End territory. But new arrivals threaten his grip on illegal activity in the area.
An evangelical minister is persuading people to seek redemption from their sins. A new gang is claiming the streets. And a watchmaker called Smith is leading a revolt against the Ramsey Mob's protection racket.
When Tommy strikes back at his enemies, a far more terrifying threat is revealed. Within hours the city's air turns into nerve gas and thousands succumb to the choking fumes. London is dying...
A complete and unabridged reading by Dan Starkey, who plays Strax in the Doctor Who BBC TV series.