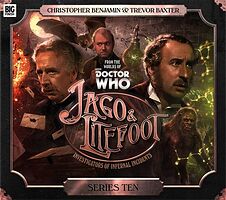 Note: Contains The Case of the Missing Gasogene by Simon Barnard & Paul Morris, The Year of the Bat by Jonathan Morris, The Mourning After by James Goss, and The Museum of Curiosities by Justin Richards.
Cover blurb:
FOUR FULL-CAST ADVENTURES!
Starring CHRISTOPHER BENJAMIN & TREVOR BAXTER
With LISA BOWERMAN & CONRAD ASQUITH
THE CASE OF THE MISSING GASOGENE
Investigating the death of Sir Hartley Harecourt's manservant, Jago and Litefoot are caught up in an intriguing locked-room mystery. It's a mystery that involves strange experiments, mysterious scientific formulae, our heroes' greatest admirer, and a missing soda siphon...
THE YEAR OF THE BAT
When a strange package is delivered to Professor Litefoot, he has no idea of the far-reaching implications. Soon Litefoot and Jago find themselves enmeshed in a series of events that began thirty years ago — events their younger selves have already been caught up in...
THE MOURNING AFTER
Litefoot is surprised to meet an old friend. But celebrations are rather muted as he and Ellie have just been to the funeral of Henry Gordon Jago. But is Jago really dead? Or has he somehow been transported into a nightmarish future? The truth is both elusive and deeply worrying...
THE MUSEUM OF CURIOSITIES
At last Carruthers Summerton — the greatest admirer of Jago and Litefoot — gets to accompany his heroes on an investigation. Amongst the bizarre murders and strange clues lies a much deeper and far more dangerous mystery. Jago and Litefoot will find out the truth at the Museum of Curiosities...