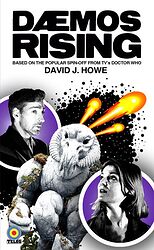 Edition:
UK (paperback)
Released:
August 2019

Publisher:
Telos
ISBN:
978-1-84583-977-2
Format:
paperback
Owned:
Buy:
Note: Originally announced with a November publication date, but was unexpectedly released 3 months early.
Cover blurb:
'In the void between time the devils waited ... patiently ... to be summoned again ... to pass judgement on the Earth ...'
KATE LETHBRIDGE-STEWART is summoned by an old friend, Douglas Cavendish, to help him with a problem he has with ghosts and voices in his head. But when Kate arrives, she finds more than she expected. Aided by a time-traveller from the future, Kate must outwit both the ancient race of Daemons, and the Sodality, a human cult-like organisation from the future, which is intent on gaining control over time.
Daemos Rising is based on, and expands upon, the Reeltime Pictures drama production Daemos Rising originally released in 2004 and available from www.timetraveltv.com. It also spins off from the 1971 BBC Doctor Who adventure 'The Daemons', and is a prequel to the Telos Publishing Time Hunter novella 'Child of Time'. All characters used with permission. This book has not been licensed or approved by the BBC or any of its affiliates.