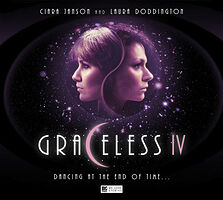 Cover blurb:
It was all over. Abby and Zara, stripped of their extraordinary powers by the beings known as the Grace, were left to see out the rest their [sic] lives as ordinary mortals Amy and Joy.
But nothing is ever so simple with those two. As long as they're together, anything might befall them...
The Bomb • The Room
The Ward • The Dance
Graceless contains some adult material and is not suitable for younger listeners.