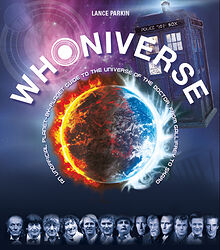 Edition:
UK (hardback)
Released:
October 2015

Publisher:
Aurum Press
ISBN:
978-1-78131-514-9
Format:
hardback
Owned:
Buy:
Cover blurb:
The most comprehensive unofficial study of the Doctor Who universe ever compiled
What exactly is Trenzalore? Where did the Sontarans originate? Where was the Thousand Day War fought? Where did the Doctor first meet the Quarks? This book answers all of these questions and plenty more, helping you discover many exquisite details about the travels of your favourite Time Lord in all of his glorious regenerations.
Whoniverse is your own personal ride on the TARDIS, taking you planet spotting in all the weird and wonderful galaxies that the good Doctor has travelled to and through. This is one adventure that no true Doctor Who fan should miss!
About the author
Lance Parkin has written many books about Doctor Who, both fiction and non-fiction. These include The Dying Days, the BBC's 35th-anniversary novel The Infinity Doctors, the best-selling Gallifrey Chronicles and the novel The Eyeless. He is also the creator and co-author of Ahistory, a giant timeline of Doctor Who that has been in print for nearly 20 years.

This is an unofficial publication and has not been endorsed, sponsored or authorized by the BBC.