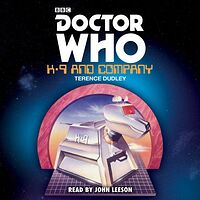 Note: Audio reading of Terence Dudley's 1987 novelisation.
Cover blurb:
John Leeson reads the novelisation of a special Doctor Who spin-off adventure for Sarah Jane Smith and K9
"This range of classic Target audiobooks continues to go from strength to strength..."
Doctor Who Magazine
In the sleepy village of Hazelbury Abbas, the Winter Solstice is fast drawing near. It is a time of deep mystery and ancient evil.
Sarah Jane Smith, journalist and former companion to the Doctor, comes to the village to write her new book. For company she has Brendan, the young ward of Sarah's missing Aunt Lavinia. Then Brendan too disappears, possibly kidnapped by practitioners of Black Magic. Is he to be sacrificed to the goddess Hecate on the Solstice?
Sarah is not alone in her search for Brendan, for the Doctor has sent her a very special companion: a robotic dog by the name of K-9...
John Leeson, the Voice of K-9 in Doctor Who, reads Terence Dudley's complete and unabridged novelisation of his 1981 TV serial, first published by Target Books in 1987.