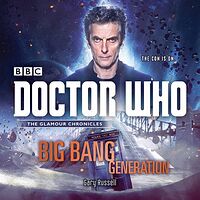 Note: Audio reading of the 12th Doctor novel.
Cover blurb:
LISA BOWERMAN READS THIS ORIGINAL NOVEL FEATURING THE TWELFTH DOCTOR, AS PLAYED IN THE BBC TV SERIES BY PETER CAPALDI
Christmas 2015, Sydney, New South Wales, Australia.
Imagine everyone's surprise when a time portal opens up in Sydney Cove.
Imagine their shock as a massive pyramid now sits beside the Harbour Bridge, glowing with energy.
Imagine their fear as Cyrrus "the mobster" Globb, Professor Horace Jaanson and alien assassin Kik arrive.
Finally, imagine everyone's dismay when a bunch of con artists turn up to spring their greatest grift yet. This gang consists of Legs, Dog Boy, Shortie, Da Trowel, and their leader, Doc, who is busy making sure the universe isn't destroyed.
And when someone accidentally reawakens The Ancients of Time — which, Doc reckons, wasn't the wisest or best-judged of actions — things get a whole lot more complicated...
A complete and unabridged reading by Lisa Bowerman, who plays Professor Bernice Summerfield in Big Finish's range of audio adventures.