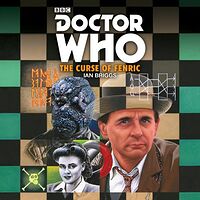 Note: Audio reading of Ian Briggs's 1990 novelisation.
Cover blurb:
Terry Molloy reads this exciting classic novelisation of a Seventh Doctor TV adventure
At a North Yorkshire naval base in 1943, Dr Judson is using his ULTIMA code-breaking machine to decipher the runic inscriptions in the crypt of the nearby church.
Meanwhile, Commander Millington is obsessed with his research into the toxic bombs that he insists will hasten the end of World War Two. When a squad of the Russian Red Army lands on the nearby coast, with instructions to steal the ULTIMA machine, they are unaware that Millington had [sic] turned it into a devastating secret weapon.
Into this scenario materialise the Doctor and Ace. Ace isn't impressed with the security arrangements or the fashions — but the Doctor has graver matters on his mind. Beneath the waters at Maidens Point, an ancient evil stirs. The Doctor uncovers mysteries concealed within villainous plots — but what connects them all to a thousand-year-old curse?
Terry Molloy, who played Davros in Doctor Who, reads Ian Briggs' complete and unabridged novelisation, first published by Target Books in 1990.