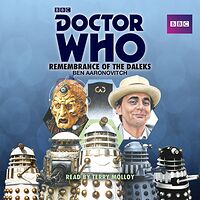 Edition:
UK (CD)
Released:
February 2015

Publisher:
BBC Audio
ISBN:
978-1-78529-023-7
Format:
5 x CD
Owned:
Buy:
Cover blurb:
An unabridged reading of Ben Aaronovitch's novelisation of his classic 1988 TV adventure featuring the Seventh Doctor
With unfinished business to attend to, the Doctor takes Ace to Coal Hill School in London, 1963. The last time he was here, he left something behind — a powerful Time Lord artefact that could unlock the secrets of time travel.
Can the Doctor retrieve the Hand of Omega before two rival factions of Daleks track it down? And even if he can, how will he prevent the whole of London becoming a war zone as the Daleks meet in explosive confrontation?
Terry Molloy, who played Davros in the original BBC TV series, reads this novelisation of the 1988 serial starring Sylvester McCoy as the Doctor. Nicholas Briggs provides the authentic voice of the Daleks.