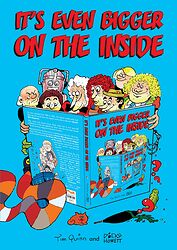 Note: Includes the previous books It's Bigger on the Inside! and The Doctor Who Fun Book, with additional material. A couple of pages were inadvertently left out of the reprint, which the publisher made available to view on their website.
Cover blurb:
For over a decade from 1982 to 1995, Tim Quinn would write and Dicky Howett would draw the regular comic strip in Marvel's Doctor Who Magazine.
Silly, wacky and always funny, these strips led to two spin-off publications in the late eighties by which time the strip had moved with the evolving magazine and gone to colour.
Reprinted here for the first time is a collection of well over 150 strips, some in full colour, from the pages of Doctor Who Magazine as well as the contents of both The Doctor Who Fun Book and It's Bigger on the Inside. The artwork has been painstakingly restored to provide the best quality reproduction possible.
Also included along the way are the thoughts of Tim & Dicky and some previously unpublished material along with some Doctor Who material Dicky Howett produced long before his time on Doctor Who Magazine going back as far as 1966. Not only that, but all their work for the Doctor Who Specials and the Doctor Who Yearbooks.
It really is even bigger on the inside...