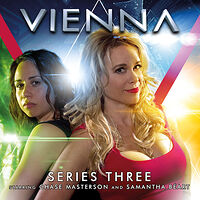 Cover blurb:
CHASE MASTERSON IS VIENNA SALVATORI IN THREE FULL CAST AUDIO DRAMAS
VIENNA WAS GOOD AT WHAT SHE DID. SHE WAS THE BEST. BUT THEN, EVERYTHING CHANGED.
SELF IMPROVEMENT by IAN POTTER
Doctor Ludovic Glospan has made a scientific discovery that could change the galaxy forever. Vienna Salvatori and Jexie Reagan have been hired to keep his secret safe. On a good day that would be an easy job, but this is anything but a good day.
BIG SOCIETY by GUY ADAMS
Tom McQueen is set to win the Selection. Failure isn't an option. Failure is for the weak. Tom McQueen doesn't even know the meaning of the word failure — until a new candidate enters the process. Now Tom McQueen knows the meaning of another word — fear!
IMPOSSIBLY GLAMOROUS by STEVE LYONS
Vienna Salvatori used to dream that she had an impossibly glamorous life, and then one day she met someone who made her dreams come true. Now she wants to help you become the person you always wanted to be. Even if it kills you.