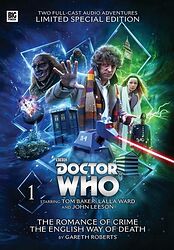 Note: Numbered limited edition of 10,000 copies. Box set containing the audios The Romance of Crime and The English Way of Death, plus an exclusive behind-the-scenes interview CD.
Cover blurb:
LIMITED SPECIAL EDITION INCLUDING A BEHIND THE SCENES DISC AND A STUNNING ARRAY OF SPECIALLY TAKEN PHOTOS OF THE CAST.

TOM BAKER, LALLA WARD AND JOHN LEESON RETURN TO THE CHARACTERS OF THE DOCTOR, ROMANA AND K9 IN THESE NEW FULL CAST AUDIO PRODUCTIONS.
THE ROMANCE OF CRIME
The TARDIS brings the Doctor, Romana and K9 to the Rock of Judgement; a court, prison and place of execution built into a rocket-powered asteroid. When involved in an investigation by the system's finest lawman, they find they must seek answers to some disturbing questions.
THE ENGLISH WAY OF DEATH
The Doctor, Romana and K9 arrive in 1930s London to return some overdue library books. They plan to take a rest after their recent adventures, but Romana detects a distress signal from the future and the Doctor is attacked by a suffocating green mist.