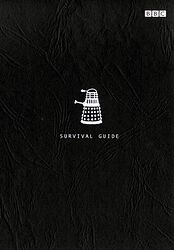 Cover blurb:
Essential for anyone aware of the looming menace that poses a terrible threat to us all. The Daleks being both highly dangerous and deeply malevolent, preparing oneself against the day of attack is of utmost importance, and the more information one has at one's fingertips, on Dalek behaviour, history, and psychology, as well as their military tactics and known weak points, the better.
This handy, pocket-sized volume is stuffed with survival tips and features sections on:
— Anti-Dalek Weaponry
— The Dalek Defence Drill (Handy Tips for Survival under Attack)
— The Anatomy of a Dalek (Daleks in Cross-Section)
— The Dalek War-Machines
— The Evolution of the Planet Skaro (history of the Dalek home-planet)
— The Dalekreed (guide to the Daleks' belief system)
— Dalek Dictionary
— Know Your Enemy (Dalek recognition test)
Stories of previous encounters are also included, as examples of how Daleks have been dealt with in the past, illustrating appropriate behaviour and defence strategies. Self-check tests are included following these case studies, ensuring that the reader has absorbed all the relevant tips.