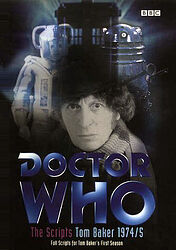 Note: The title suggests that the BBC were planning to publish further season-by-season volumes of the Doctor Who classic series scripts — but this never happened, presumably due to poor sales.
Cover blurb:
The actual scripts for Doctor Who — available for the first time in their original form.
Reproduced in this volume are the complete scripts for Tom Baker's first ground-breaking series of Doctor Who.
Fight with UNIT and the Doctor to defeat the giant Robot.
Travel to The Ark In Space and save the last survivors of the Human Race from the Wirrn.
Visit the abandoned Earth far in the future and discover the secrets of The Sontaran Experiment.
Share the Doctor's dilemma as he meets Davros for the first time and struggles to prevent the Genesis of the Daleks.
Then return to Nerva Beacon in time to save the Vogans from the Revenge of the Cybermen...
An introduction by Doctor Who script editor and writer Terrance Dicks
Extensive production notes for each story
Comprehensive annotations that detail how the programmes were made
Deleted scenes and altered sections — available in print for the first time
Original production documents and designs
A wealth of additional supplementary material including the BBC's own audience research data, how the Doctor was screened in the USA, production notes for an unmade Who documentary, and much more...
A comprehensive guide to how television was really made in the mid-seventies... A complete companion to the twelfth season of Doctor Who... Five fantastic adventure stories gathered together in a single volume... Whatever you're looking for, you'll find it in here.
The most comprehensive guide to Doctor Who ever published.