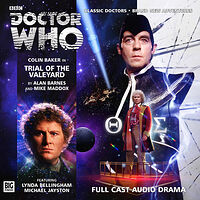 Note: This CD was originally given away free as a special bonus to Big Finish subscribers in late 2013 but was subsequently made available for anyone to purchase (in limited quantities).
Cover blurb:
There is some evil in all of us — even the Doctor. Transported aboard the Time Lords' orbiting courtroom, the Doctor once again encounters the Valeyard, an amalgamation of the darker sides of his nature. This time, however, the Doctor isn't in the dock. This time, the Valeyard is the defendant, accused of a crime so terrible that the presiding Inquisitor is forbidden to reveal it even to the court, nor even to his counsel for the defence... the Doctor.
If the Valeyard is found guilty, he'll be executed. Execute the Valeyard, and the secret of his origins dies with him. A secret that the Doctor is desperate to know... and which the Time Lords will stop at nothing to protect.