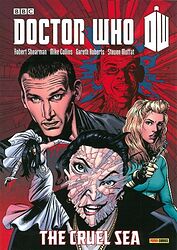 Note: In December 2015, a hardback edition of this graphic novel with a different cover (the same artwork, but tinted blue) was made available to subscribers of the Doctor Who: The Complete History partwork series. It doesn't appear to have been available to buy separately, hence is not currently listed on this site.
Cover blurb:
COLLECTED NINTH DOCTOR COMIC STRIPS
From the pages of DOCTOR WHO MAGAZINE, every single comic strip to feature the Ninth Doctor and Rose — in one volume!
Get ready for the trip of a lifetime as the TARDIS travels to London in the Swinging Sixties, to a trans-dimensional gallery in the 37th century, to the oceans of Mars in the distant future, and backwards in time to Shakespeare's England.
Featuring five incredible adventures:
THE LOVE INVASION by GARETH ROBERTS
ART ATTACK by MIKE COLLINS
THE CRUEL SEA by ROBERT SHEARMAN
MR NOBODY by SCOTT GRAY
A GROATSWORTH OF WIT by GARETH ROBERTS
PLUS! STEVEN MOFFAT's short story from the Doctor Who Annual 2006 which inspired the TV episode Blink: WHAT I DID ON MY SUMMER HOLIDAYS BY SALLY SPARROW
PLUS! A bumper commentary section where the writer and artists reveal the stories behind the strips. Featuring never-before-published artwork, original story outlines and much more!
AN ESSENTIAL COLLECTION FOR FANS OF DOCTOR WHO AND CLASSIC BRITISH COMICS!