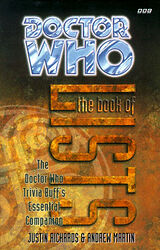 Cover blurb:
Inside this book, not surprisingly, you will find over 150 lists of information and trivia about Doctor Who, from everyone who has played the Doctor to the crimes of the Master, from the rooms in the TARDIS to spin-off productions.
This book covers all aspects of televised Doctor Who, handily subdivided into four convenient sections:
Production: Find out how many people played Jo Grant on screen, which actors were used over again by the same directors and much more!
Trivia: References to the toilet in Doctor Who, appearances of bicycles, even how many times tea has appeared in the television series!
Narrative: Lists include the times the Doctor and friends have fallen asleep, the many disguises the Doctor has adopted on his travels and lots more!
The Basics: Including the correct nomenclature for each episode as given on screen!
If you have ever pondered such burning issues, here at last is the book to set the record straight. Essential reading for Doctor Who fans, trivia buffs, quiz compilers and people just looking for something out of the ordinary to leave on the coffee table.