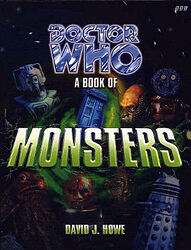 Note: David Howe describes how this book came about at http://www.shillpages.com/howe/b-monst.htm
Cover blurb:
YOU WILL BE EX-TER-MIN-ATED!
What was it that sent children scurrying behind the sofa at tea-time? Why did millions of households tune into BBC1 on Saturday evenings, week after week? What turned the BBC television series Doctor Who from being a partly educational show for children into an internationally acclaimed success?
It was the monsters.
Daleks... Cybermen... Sea Devils... Sontarans... Sil... The Haemovores... Now you can discover more as A Book of Monsters takes you behind the scenes of Doctor Who to meet the monsters and their makers.
Packed with rare pre-production design drawings and photographs and including candid comments and recollections from those people who actually devised, created and played the monsters, A Book of Monsters is a celebration of the many talents which brought Doctor Who's greatest foes to the television screen. Also featured are several exclusive original story outlines, showing how favourite stories started life, and the original scripted descriptions of the monsters are revealed as we explore the rubber and latex-filled world of the monster makers.
Over twenty of the Doctor's greatest enemies — from Daleks and Cybermen to Haemovores and Cheetah People — are examined in detail, while more than 200 alien creatures, robots, beasts, mutants and plants are featured in an extensive illustrated guide to Doctor Who's monsters.
A Book of Monsters is the indispensible guide to the horrors found in the many worlds of Doctor Who.