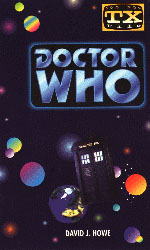 Note: David Howe describes how this book came about at http://www.shillpages.com/howe/b-txfile.htm
Cover blurb:
He's back... and it's about time!
Thirteeen lives, one TARDIS and the whole of time and space to explore... the Doctor is the most enigmatic adventurer in the universe. Find out about his eight incarnations, his travelling TARDIS and his greatest and most dangerous adversary: the Master.
This 24-page fact booklet is part of the BBC's "TX File" range of filofax inserts.