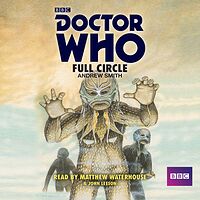 Note: Audio reading of Andrew Smith's 1982 novelisation. Was due out in January 2014, but delayed for a year after AudioGO entered administration in late 2013.
Cover blurb:
Matthew Waterhouse reads this classic novelisation of a Fourth Doctor TV adventure
The Doctor, Romana and K9 are heading for Gallifrey when they temporarily lose control of the TARDIS. The significance of this event is only revealed when they land, not on Gallifrey but on Alzarius. The planet's legendary Mistfall is approaching, a time when giant scaly creatures emerge from the swamps and go on the rampage, leaving a trail of death and destruction in their wake.
As the Alzarians take cover in the Starliner spaceship, one band of young rebels is determined to be different. Among them is Adric, a boy who inadvertently leads Romana and K9 into terrible danger. Will the Doctor be able to save all their lives and unravel the secret of Mistfall?
Matthew Waterhouse, who played Adric in the BBC TV series, reads Andrew Smith's complete and unabridged novelisation, first published by Target Books in 1982.