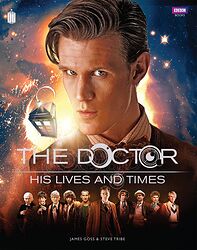 Edition:
UK (hardback)
Released:
September 2013

Publisher:
BBC Books
ISBN:
978-1-84990-636-4
Format:
hardback
Owned:
Buy:
Cover blurb:
With contributions by
Colin Baker
John and Carole E. Barrowman
Tim Berners-Lee
Nicholas Briggs
Jenna Coleman
Paul Cornell
Russell T Davies
Peter Davison
Terrance Dicks
Neil Gaiman
Mark Gatiss
Waris Hussein
Bonnie Langford
Paul McGann
Steven Moffat
Matt Smith
Lalla Ward
Marcus Wilson
And many more
(Inside the dust jacket reads as follows:)
'I'm the Doctor. I'm a Time Lord. I'm from the planet Gallifrey in the constellation of Kasterborous. And I'm the man who's going to save your life.'
He's made a mark on almost every era of history, and he's touched millions of lives across space and time. In these pages you'll find just some of the stories behind those brief encounters, each of them addressing the question that must never, ever be answered: 'Doctor Who?'
This is the story of an impossible life — of a man who borrowed a spaceship, travelled through time and continually saved the universe — as told by the Doctor's friends, by his enemies, and by the man himself. Letters, journals, trial records, secret government files and the occasional bit of tabloid journalism reveal the never-before-told story of Gallifrey's last Time Lord.
James Goss has written three Torchwood novels, a Doctor Who novel, and two radio plays, and is the co-author, with Steve Tribe of The Dalek Handbook and Doctor Who: A History of the Universe in 100 Objects. His Doctor Who audiobook Dead Air won Best Audiobook 2010 and his books Dead of Winter and First Born were both nominated for the 2012 British Fantasy Society Awards.
Steve Tribe is the author of the Doctor Who books The Time Traveller's Almanac, Companions and Allies and The TARDIS Handbook, and of the audiobook Doctor Who: The Essential Companion. He has edited over a hundred Doctor Who, Torchwood, Being Human and Sherlock books, and co-wrote The Dalek Handbook and Doctor Who: A History of the Universe in 100 Objects with James Goss.