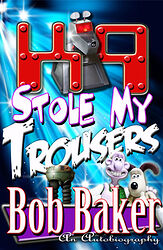 Edition:
UK (hardback)
Released:
June 2013

Publisher:
Fantom Films
ISBN:
978-1-78196-101-8
Format:
hardback
Owned:
Buy:
Cover blurb:
Bob Baker, co-writer of three Oscar and BAFTA winning Wallace & Gromit films and the co-creator of the Doctor's mechanical mutt K9, presents his new autobiography 'K9 Stole My Trousers'.
A stalwart of HTV, Bob has worked with Sir Laurence Olivier, Leonard Rossiter, Ron Moody, Toyah Willcox and Trevor Eve. Among his many TV credits, Bob wrote a number of episodes of Doctor Who with co-writer Dave Martin, several episodes of Bergerac starring John Nettles and the smash hit children's show, Into the Labyrinth; Bob also script edited the popular crime series Shoestring.
Bob is perhaps best known for his work with Nick Park on Aardman Animations' Oscar and BAFTA-winning shorts, The Wrong Trousers, A Close Shave and A Matter of Loaf and Death, and the feature film The Curse of the Were-Rabbit.
Among his recent work, Bob has just finished the first 26-part series of the regenerated K9, currently showing on the Disney Channel and Channel 5, and is gearing up for a second series in the coming year.
Bob's life has been rich and varied; his adventures outside of his illustrious career range from a wine-tasting tour of France and mad sea voyages with the legendary Keith Floyd to playing jazz with John Fortune of Bremner, Bird and Fortune.
'K9 Stole My Trousers' is a tribute to some of the finest talents in TV in the last fifty years, both people Bob worked with and people he considers himself lucky to have known in his personal life.