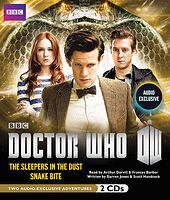 Note: US box set containing the previously-released audios Sleepers in the Dust and Snake Bite.
Cover blurb:
Two Original Doctor Who Adventures, Read by Stellar Cast Members of the Hit Series on BBC America!
THE SLEEPERS IN THE DUST, written by Darren Jones; read by Arthur Darvill:
The TARDIS touches down on Nadurniss, a planet under quarantine. A joint Nadurni/human mission has recently landed on the planet to survey it for possible re-colonization. Two millenia have passed since the Nadurni Empire fell at the end of the Prokarian War, and Nadurniss seems to be a lifeless, barren world — but a mysterious illness is infecting the Nadurni, and now the whole team is in danger. The nature of the infection becomes clear when the sickest Nadurni dies and an amorphous creature emerges from its dried-up body. A shambling mound of bacteria, acting as one being — a Prokarian — it has been on the planet all along, sleeping in the dust. As the Prokarians attack, Amy is infected. The Doctor can do nothing to help her — until he realizes that the cure could lie in the past. He and Rory must travel back more than 2000 years to try and save her life...
SNAKE BITE, written by Scott Handcock; read by Frances Barber:
Doctor Elehri Mussurana has spent a lifetime on her work. She's guarded her pet project close to her chest, letting only one person share her secret — her husband and lab partner Ernst Wharner. As their experiment reaches its final, glorious fruition, they watch in awe as sparks fly in a sealed chamber and specks of sapphire light begin to join together into a shining haze. A wormhole in time and space is being created... But then something unexpected appears inside the swirling vortex: a tall blue box with the words "POLICE PUBLIC CALL BOX" on the side. The TARDIS has arrived in the far future, in a scientific research facility — just as the fabric of reality is ripped at the seams and the universe tears in two...