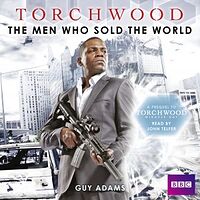 Note: Audio reading of the 2011 novel.
Cover blurb:
When Oscar Lupe appears twenty thousand feet up in the air, his body is frozen solid and free-falling to earth. It shatters on impact. Soon after, a CIA Special Activities Division squad goes rogue with a cargo marked "Torchwood" that they've been escorting from somewhere called Cardiff. The Agency puts Rex Matheson on the case. As the strange deaths pile up, Rex realises there must be experimental tech out there, but someone is obstructing him at every turn. Rex is the CIA's golden boy — but has he met his match in the evasive Mr. Wynter?
Based on the hit series created by Russell T Davies, The Men Who Sold The World is a prequel to Torchwood: Miracle Day, starring John Barrowman and Eye Myles as Jack Harkness and Gwen Cooper, with Mekhi Phifer as Rex Matheson.
JOHN TELFER is best known for playing the character of Willy Pettit in five series of Bergerac. He has appeared many times in various television dramas, while his parallel theatrical career has involved him in leading roles at the Bristol Old Vic, the Royal National Theatre, the Old Vic in London, and many regional theaters. He has made hundreds of radio broadcasts, and he plays the part of Alan, the vicar, in The Archers.