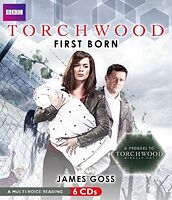 Note: Audio reading of the 2011 novel.
Cover blurb:
"No. We're getting her back. Then we're leaving. No more of this. Torchwood is dead. Let someone else pick up the pieces. Look what it's cost us — everything."
Gwen and Rhys are in hiding. But the isolated village of Rawbone is no place to bring up a baby. With the locals taking an unhealthy interest in their daughter, Gwen and Rhys start to realize that something is very wrong in Rawbone — something with echoes of a life they thought they'd left behind.
As they uncover the village's terrible past, Gwen discovers that Torchwood will never leave her — but now she and Rhys stand alone in defense of the Earth. And the children of Rawbone can only bring her closer to the secret forces that want her out of the way.
Clare Corbett, Kai Owen, Katherine Fenton, Joe Jameson, Carole Boyd, Michael Stevens, and Susie Riddell are the readers of this thrilling multi-voice narration.
Based on the hit series created by Russell T Davies, First Born is a prequel to Torchwood: Miracle Day, starring John Barrowman and Eye Myles as Jack Harkness and Gwen Cooper, with Kai Owen as Rhys Williams.
JAMES GOSS is an award-winning English writer and producer, best known for his work on Doctor Who and Torchwood. He also produced the Doctor Who animated serial The Infinite Quest.