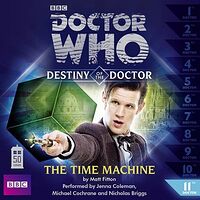 Note: Was due out on Nov 7th with the ISBN 978-1-4713-1177-2, however the release was delayed by AudioGO entering administration in late Oct 2013. In the end, co-producers Big Finish stepped into the breach and released it in time for the 50th anniversary.
Cover blurb:
Celebrating 50 years of Doctor Who, a brand new adventure for the Eleventh Doctor
23 November 2013, in an Oxford laboratory, graduate Alice Watson helps Professor Chivers assemble the final pieces of an impossible machine. A time machine.
The scientist and his assistant believe they are making history, little suspecting that the project's completion will threaten the existence of the entire universe. But someone has sensed the danger, and when the mysterious Doctor arrives, Alice is taken on a desperate race from libraries and dreaming spires all the way to the nightmarish world of Earth's future.
The monstrous Creevix are coming. They seek control of time itself and are certain that the Doctor is already too late to stop them. But can the key to saving the future lie in the Time Lord's past lives?
One man — eleven faces — countless adventures. Is it all about to come to an end? As time runs out, the Doctor must face his destiny...
Jenna Coleman, who plays the Doctor's companion Clara in the hit BBC TV series, Michael Cochrane and Nicholas Briggs perform Matt Fitton's concluding story in the Destiny of the Doctor series, with music and sound design.