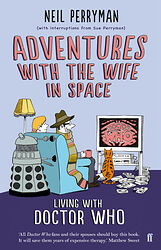 Edition:
UK (1st paperback)
Released:
November 2013

Publisher:
Faber & Faber
ISBN:
978-0-571-29810-5
Format:
paperback
Owned:
Buy:
Cover blurb:
Neil loves Sue. He also loves Doctor Who.
But can he bring his two great loves together? And does he have the right?
'This is a very, very funny book; touching too.'
Jenny Colgan
In January 2011, Neil Perryman set out on an insane quest to make his wife Sue watch every episode of the classic series of Doctor Who from the very beginning. Even the ones that didn't exist any more. And so, over the next two and half years, Sue gamely watched them all: William Hartnell (the Miserable Git); Patrick Troughton (the Scruffy Drunk); Jon Pertwee (the Pompous Tory); Tom Baker (the Mad One); Peter Davison (the Fit One); Colin Baker (the Court Jester); Sylvester McCoy (the Crafty Sod) and Paul McGann (the One-Night Stand). The result was a wildly successful and hilariously revealing blog called Adventures with the Wife in Space.
But the adventure continues. From awkward years at school, terrified of giant insects, Daleks and rugby players, to even more awkward years as an adult, terrified of unexpected parenthood and being called a Whovian, here Neil tells the all too true story of life as a Doctor Who fan. Funny, honest and surprisingly brave, he also captures perfectly the joys — and fears — of sharing the thing you love with the people you love.
Adventures With the Wife in Space is, at its heart, the story of Doctor Who, and its fans, seen through the eyes of two people — one who knows almost nothing about the programme and another who knows way too much.
'This is a brilliant book about how Doctor Who can be part of your life. Hysterically funny and surprisingly moving; it's a celebration of how fantastic Doctor Who is, even when it's a bit rubbish.'
Joseph Lidster, writer of Torchwood and The Sarah Jane Adventures.
NEIL PERRYMAN fell in love with Doctor Who when he was 3 years old, and, 40 years later, he still can't stop thinking about it. Neil has also been responsible for a number of popular websites over the last 10 years, including Tachyon TV and Behind the Sofa. He lives in County Durham with Sue and her daughter, Nicol.
SUE was born and raised in the north-east of England. When she's not rescuing feral cats, building houses or playing tennis, she teaches video production at the University of Sunderland. Thanks to her husband, she has now seen more episodes of Doctor Who than you have.