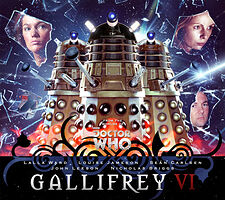 Note: This box set also includes a bonus documentary, looking back at all six series of Gallifrey, including interviews with the cast and crew.
Cover blurb:
1. Extermination by Scott Handcock
Gallifrey Fights...
Having infiltrated the Axis, the Daleks have secured access to a myriad alternative realities and, with them, countless Gallifreys... every one with secrets to be plundered.
As her new world falls to the might of the Dalek invasion force, Romana finds herself struggling to keep her friends alive as the Capitol collapses around her.
Against all odds, there may be a way out - back to the Axis and, potentially, back home. But desperate times call for desperate measures and, ultimately, sacrifices...
2. Renaissance by James Goss
Gallifrey Lies...
Returning to her original homeworld, Romana finds Gallifrey to be cold and empty... the corridors of the Capitol lie silent and the wastelands are populated only by a handful of primitive monsters.
Her only hope lies with the appearance of a strange young woman: a woman with a masterplan so devious it makes Romana's own masterplans look decidedly not-devious-at-all...
How far would Romana go to save her world? Would she risk the Web of Time? And who is the mysterious stranger watching from the shadows...?
3. Ascension by Justin Richards
Gallifrey Rises...
Romana's sacrifice sees Gallifrey restored to its former glory, but at a terrible cost.
As the Time Lords begin to reclaim their stronghold, Leela and Narvin find themselves trapped in a decaying reality... and only K9 can help them.
As old friends fight to reunite, new threats lie in wait...
Because Braxiatel was right: war is coming.