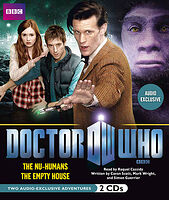 Note: US box set containing the previously-released audios The Nu-Humans and The Empty House.
Cover blurb:
Two Original Doctor Who Adventures, Read by Raquel Cassidy, Who Played Foreman Miranda Cleaves in the Hit Series on BBC America!
THE NU-HUMANS, written by Cavan Scott & Mark Wright; read by Raquel Cassidy:
The Doctor, Amy, and Rory are awe-struck by their first sight of Hope Eternal, a super-earth bigger than Earth itself with heavy gravity, volcanoes, and a crust loaded with mineral deposits. But their wonder is cut short when they discover a body dumped on the ground — a huge figure with extraordinarily long arms covered in thick, purple scales. Yet the corpse is not alien: he's human, albeit unlike any human Amy and Rory have ever seen. The Nu-Humans have adapted their genes to fit their new environment, and formed a thriving colony. But now they are facing a terrible threat. Can the Doctor find out who is killing Nu-Humans and why — before he, Amy, and Rory are themselves tried for murder?
THE EMPTY HOUSE, written by Simon Guerrier; read by Raquel Cassidy:
Thrown off course by a howling storm, the TARDIS lands in a bleak, desolate stretch of countryside. The Doctor deduces that it has arrived in Hampshire in the 1920s and, sniffing the air, he smells a distinct odor of sulphur — indicating that a spaceship has crashed in the area. While Rory goes to fetch an umbrella, Amy and the Doctor brave the rain to find the stricken craft. It is huge, shiny, silvery-blue — and completely empty. A set of footprints leads to a cozy-looking, old-fashioned cottage: but the house, too, is deserted. However the Doctor and Amy can distinctly hear people talking — and one of the voices sounds like Rory's. How could he be in the cottage when he was last seen heading back to the TARDIS? Where are the residents of the empty house? And what has happened to the inhabitants of the spaceship?