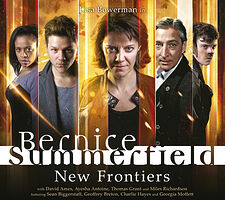 Note: Box set of 3 audio adventures. The novel Filthy Lucre was released at the same time, as a "spin-off".
Cover blurb:
1. A HANDFUL OF DUST Written by Xanna Eve Chown
"S.O.S. Emergency. Please send... an archaeologist?"
On a routine postal mission for a deranged millionaire, Bernice, Ruth and Jack intercept a distress signal from the most haunted planet in the galaxy: Nemeqit.
Taking their newly-christened shuttle - The Irverfield - down to investigate, the trio soon find themselves confronted with a pair of childlike extra-terrestrials; Vonna Byzantium, presenter of Paranormal Planets and part-time diva... and an awful lot of dust.
But something else is going on beneath the surface of Nemeqit, something none of them ever imagined. And this time, Bernice really can't save everyone...
2. HMS SURPRISE Written by Alexander Vlahos
Mortis Dock: the last manned shipyard in the cosmos...
Population: six thousand and two...
And now, not a soul in sight... at least, until Bernice, Peter and Jack are drawn off-course.
Where have all the workers disappeared to? Why is Jack behaving oddly? And what is the secret of the HMS Surprise?
Only a stranger in a lighthouse holds the key... but can he be trusted?
3. THE CURSE OF FENMAN Written by Gary Russell
It's Advent Day on Legion: a time that traditionally calls for celebration; a day spent with the people you love, when all the family come together, setting aside their differences... or when they bring old scores to settle.
An old foe has been biding her time, manipulating the people and events around Bernice Summerfield for as long as any of them can remember... She knows so many secrets - the secrets they've all been hiding - but not everybody wants to learn the truth.
Today is the day Avril Fenman comes to Legion. She comes to claim her son... and to set Bernice on her final, lonely battle. But will her friends stand by her, one last time?