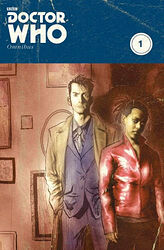 Note: Followed by Omnibus 2. Compilation of the previously-released graphic novels Agent Provocateur, The Forgotten and Through Time and Space. The Feb 6 release date refers to availability from US comic stores. As per IDW's typical practice, the release date for Amazon and other book retailers is approx 2 weeks later (Feb 19).
Cover blurb:
Doctor Who Omnibus, Volume 1 collects three tales, all involving the Tenth Doctor, as portrayed by David Tennant.
It begins with Agent Provocateur. As The Doctor and Martha Jones search for the best chocolate milkshakes in the cosmos, someone else is on the hunt for him.
Through Space and Time is a collection of six one-shots from creators such as Leah Moore, Ben Templesmith, Tony Lee and John Ostrander.
It concludes with The Forgotten, when The Doctor is stranded in a strange museum that's dedicated to him and features appearances by the previous nine Doctors.