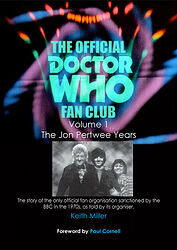 Note: Followed by Volume 2.
Cover blurb:
"Ah, Keith. Without you, none of us would exist." Clayton Hickman
On the 10th January, 1972, Keith Miller took receipt of a letter from the BBC which would change his life forever. Aged only 13, Doctor Who producer Barry Letts decreed that Keith was now in charge of the only official fan organisation dedicated to the show. Given completely free reign to do as he saw fit, Keith started on building Doctor Who fandom, even if it meant fighting Jon Pertwee, and asking Tom Baker for cash, neither of which went down very well...
This is the first in a two volume set which features set reports from Carnival of Monsters, The Three Doctors, Planet of the Spiders, Genesis of the Daleks, Terror of the Zygons and Masque of Mandragora, with a full set of the very first Doctor Who fanzine, and fascimiles of the actual letters between the stars and production team of the show.