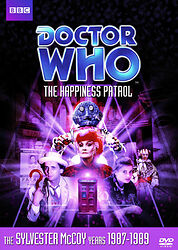 Note: This story was only released separately in the US. In the UK and Australia it was instead released as part of the Ace Adventures box set, along with Dragonfire.
Cover blurb:
On the planet Terra Alpha, bright fluorescent lights and garish candy-striped colors abound. The population constantly displays happy smiles. There's no sadness on Terra Alpha. Anyone feeling remotely glum disappears. Quickly. Having heard disturbing rumors, the Doctor and Ace arrive to topple the entire regime overnight.
But they haven't reckoned upon the varied punitive measures enforced by colony leader Helen A. There are many delicious ways in which to vanish on Terra Alpha: you can be hunted down by the omnipresent Happiness Patrol or mauled by Helen A's ravenous pet Fifi. But those especially unlucky few will find themselves entertained in the sweetie factory manned by Helen A's psychotic henchman — the Kandy Man.
This time, happiness will prevail...
DVD EXTRAS INCLUDE:
Audio Commentary with actors Sophie Aldred (Ace), writer Graeme Curry, script editor Andrew Cartmel, composer Dominic Glynn and director Chris Clough, moderated by Toby Hadoke
Happiness Will Prevail Making Of with cast and crew (23 mins)
Deleted and Extended Scenes (23 mins)
When Worlds Collide Analysing the story's political ideologies (46 mins)
Photo Gallery (5 mins)
Isolated music
PDF materials: Radio Times Listings
Production Notes Subtitle Option
Digitally remastered picture and sound quality
Originally transmitted November 2 - 16, 1988