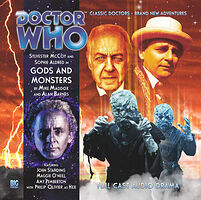 Note: A different cover design was used for pre-launch promotion, to avoid spoiling the return of the Haemovores (from The Curse of Fenric).
Cover blurb:
The TARDIS travellers arrive in a bizarre landscape seemingly immune to the physical laws governing the rest of the universe. Ace, Hex, Sally and Lysandra battle to rescue the Doctor from the trap he's walked into... soon realising that the odds are stacked against them.
Because the Doctor is playing an old adversary again: Fenric, shatterer of worlds. But the dice was loaded against the Doctor and his allies long ago, in the dim and distant past — and defeat's their only option.