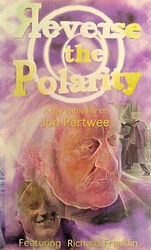 Edition:
UK (2nd VHS)
Released:
June 1999 (Exact date unconfirmed)

Publisher:
Archangel Media
Format:
1 x VHS PAL
Owned:
Buy:
Note: Remasted and expanded edition. Running time 60 minutes.
Cover blurb:
A day in the life of Jon Pertwee
With previously unseen footage
Also featuring Richard Franklin (Captain Mike Yates)
On the 20th of March 1992, Jon Pertwee, veteran star of The Navy Lark, Dr Who and Worzel Gummidge, spoke candidly to Liam-Michael Rudden about his life in show-business. The in-depth interview covered his entire career, from his first-ever job to his hopes for the future.
Seventy three years young at the time of filming, Jon allowed Archangel Media to tail him for what turned out to be a very energetic day in his life.
They follow Jon as he arrives at his Edinburgh Hotel, attends a press call, enjoys a buffet lunch and meets with his fans at a signing session at a Virgin Megastore.
This digitally re-mastered release of REVERSE THE POLARITY features previously unseen footage of Jon.
The programme is also linked throughout with new footage of Richard Franklin. Richard, who played Captain Mike Yates during the Pertwee years, shares his memories of the ultimate showman with a slightly older Liam-Michael Rudden.
REVERSE THE POLARITY also features extracts from STARWATCH, the pilot programme for a proposed Science-fiction serial.
Production Credits
Interviewer Liam-Michael Rudden starred in the stage play RECALL UNIT alongside Richard Franklin and John Levene and has written for Marvel's Doctor Who Monthly and Cult TV.
The video was filmed, produced and edited by George Cairns. George has had a variety of computer generated images published in Science Fiction Magazines including SFX and Dreamwatch.
Review
"Reverse the Polarity is an excellent Production, more than comparable to those of Mythmakers. Pertwee himself is compelling to watch."
DWB (now DREAMWATCH)