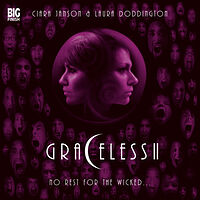 Cover blurb:
Abby and her sister Zara are not real people. They were created by pan-dimensional beings to help save space and time.
They've been blessed with special powers. They can see into people's heads, even influence their thoughts.
And, so long as they're together, they can go anywhere or when.
They know they've done wrong, that they have made enemies, who now scour all of history to find them.
So they keep moving on, trying to make amends, trying to help people. And not to do any more harm...
WARNING! This CD contains adult material and is not suitable for younger listeners