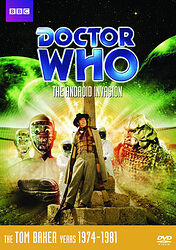 Note: In the UK and Australia, this story was released as part of the U.N.I.T Files box set instead.
Cover blurb:
When the TARDIS lands in the sleepy English village of Devesham, Sarah thinks the Doctor has finally got her back home. But all is not as it seems — the village is unusually deserted and deadly white-suited spacemen patrol the countryside. When the dead begin to come back to life, the Doctor decides to contact UNIT. But their UNIT friends are also dangerously changed.
Who is Senior Defense Astronaut, Guy Crayford, and why is he in charge of UNIT? Who are his true masters, the Kraals, and what insidious plans are they concocting behind the scenes?
The Doctor soon discovers the invasion of Earth has already begun, and if he doesn't stop it mankind will be utterly wiped out.
DVD EXTRAS INCLUDE:
Audio Commentary by actors Milton Johns (Guy Crayford) and Martin Friend (Styggron), producer Philip Hinchcliffe and production assistant Marion McDougal
The Village That Came to Life Making of (30 mins)
Life After Who — Philip Hinchcliffe (29 mins)
Photo Gallery (4 mins)
Tie-in Weetabix commercial
PDF materials: Radio Times Listings, Weetabix packet promotions
Production Notes Subtitle Option
Digitally remastered picture and sound quality
Originally transmitted November 22 - December 13, 1975