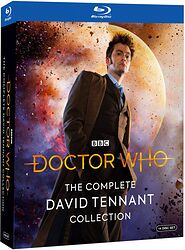 Edition:
US (Blu-ray)
Title:
The Complete David Tennant Collection
Released:
September 2019

Publisher:
BBC Video
Format:
14 x Blu-ray
Owned:
Buy:
Note: Also contains an exclusive new David Tennant interview, plus The Sarah Jane Adventures episode The Wedding of Sarah Jane Smith, which of course featured a guest appearance by Tennant as The Doctor.
Cover blurb:
Here's your ticket to non-stop adventure with David Tennant, the charismatic Tenth Doctor voted "the most popular TV character of the 21st century" (Digital Spy, 2016).
Join the Doctor and his companions in exciting battles of wits against Cybermen, Daleks, Weeping Angels, and more. You'll meet mysterious River Song (Alex Kingston), Captain Jack Harkness (John Barrowman), and travel across all of space and time from Pompeii and Versailles to the far reaches of the universe. Special guest stars include Kylie Minogue, Timothy Dalton, and Academy Award-nominee Carey Mulligan.
Every David Tennant Doctor Who episode and special is assembled here plus a brand new interview with the Tenth Doctor himself. You won't want to be without this incredible collection!
SPECIAL FEATURES:
DOCTOR WHO CONFIDENTIAL
VIDEO DIARIES
COMMENTARY
DELETED SCENES
OUTTAKES
CHILDREN IN NEED SPECIALS
AND MORE!
PLUS:
THE ANIMATED SPECIALS
THE WEDDING OF SARAH JANE SMITH
BRAND NEW DAVID TENNANT INTERVIEW