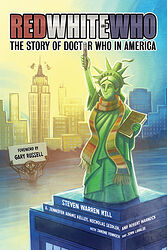 Description: A comprehensive overview and history of Doctor Who fandom in the United States.
Cover blurb:
"This is genuinely fascinating stuff...a warm, dryly caustic in places, look at the way the show was viewed, received, influenced by, and ultimately loved by, the American audience...you've earned this book."
—GARY RUSSELL, from his foreword
Every American DOCTOR WHO fan has a story to tell, and fans of the iconic British television show love to tell stories. All of them, from the casual to the obsessed, will happily regale others with the tale of how and when they discovered the greatest science fiction media franchise ever. Most early American fans first met the Doctor in the early 1980s, nearly twenty years after the show began in 1963...but the story of DOCTOR WHO in America—a complex and fascinating journey into pop culture—stretches much further back.
In this book, you'll find the rich history of everything DOCTOR WHO in the USA—from American TV Guide listings of Canadian broadcasts in 1965, through the Dalek movies, the early struggles of the Public Broadcasting System, the BBC sales attempts, the official debut on American television in 1972, the explosion in popularity among US viewers in 1979, the twentieth anniversary celebration in 1983, the conventions, the books, the merchandise, the fan clubs, the video releases, the games, the USA Tour, and every imaginable fan activity including cosplay, fan films and audios, PBS pledge drive volunteering, websites, podcasts, and much more, to the new heights of success, popularity, and fandom participation in the 21st century. It's an enlightening and entertaining journey for everyone who admires DOCTOR WHO...and not just for American fans, but devotees around the globe.
Think you know everything there was to know about our favorite Time Lord and his history? Get ready to discover a "New New World" in RED WHITE AND WHO: THE STORY OF DOCTOR WHO IN AMERICA!