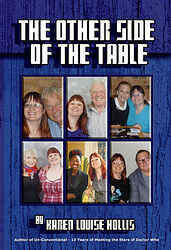 Note: Follow-up to Un-Conventional. Signed copies can be ordered direct from the author via PayPal at £12 (incl. UK/Europe postage) or £14.50 (incl. worldwide postage) by sending payments to: les (at) vortexevents.co.uk
Cover blurb:
Karen Louise Hollis is the author of Un-Conventional — 13 Years of Meeting the Stars of Doctor Who, which was published in September 2010, its first print run selling out in just two months. From the launch at Regenerations, Karen spent a year travelling to different events signing and selling her book. This included signing with Matthew Waterhouse at Time War in Rotherham and sharing a table with Terrance Dicks at 625 Line in Derby.
The publication of Un-Conventional also led to huge life-changing events in Karen's personal life, as Les Hollis entered her life by buying a copy at Time War — so changing both their futures forever.
From being just an ordinary fan who had attended Doctor Who conventions and events since 1997, Karen was now experiencing The Other Side of the Table — being asked for autographs, being photographed, selling books and giving interviews. This second book covers the events she attended from September 2010 to July 2011 and includes Utopia, Pandorica, Invasion, Mel-O-Drama, The Exterminators, Valiant 2, The Daemons at 40, plus Whoovers events, sci-fi and cult TV days. It includes her meeting over 100 of the Doctor Who cast and crew, star names such as Arthur Darvill, Colin Baker, Paul McGann, Kate O'Mara, Jacqueline Pearce, Frazer Hines, Barbara Shelley, Peter Purves, Bonnie Langford and the legend that is Floella Benjamin.
The Other Side of the Table also includes her views on the new series of Doctor Who, her ten hours spent watching an episode being filmed and her personal tributes to Nicholas Courtney and Elisabeth Sladen.
The Other Side of the Table is written in Karen's chatty, fun and light-hearted style. If readers attended any of the events mentioned, this book will hopefully bring back some great memories and for those that didn't go — well, now you will know what you missed!